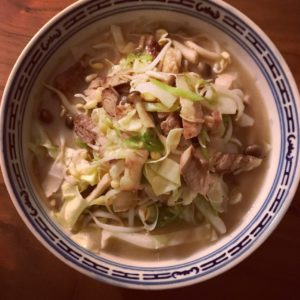 Japanese noodle soup made on pork stock.
The recipe is for one person and the total time spent is 13 hours.
Broth:
2 kg of pork bones
1 piece (15×15 cm) Kombu
The soup:
4 dl stock
2 tbsp. soy sauce (Sanbishi)
1 tbsp. mirin
3 tbsp. cream
½ tsp. salt
Sprinkle pepper
1 pk. pre-cooked ramen noodles
2 thick slices of pork
10 Shime ji mushrooms
1 spring onion
1 scallop
1 handful of bean sprouts
2 handfuls of white cabbage
Method
1. Pork bones come in a large spot with a piece of Kombu.
2. Cover the bones with 3 cm of cold water and set to boil.
3. Cook the stock under low heat for 12 hours.
4. Remove the foam in the surface with a tablespoon.
5. Remove the fat at the top of the broth with a tablespoon.
6. Continuously add some water to the broth.
7. Brush the pork slices with a little olive oil, sprinkle with salt on both sides and bake at 80° for 1 hour.
8. Rinse the spring onion and cut with an angle to thin slices.
9. Rinse the bean sprouts.
10. Cut the mushroom across at the root.
11. Rinse cabbage and cut into 1 cm strips.
12. Cut the scallop into thin slices.
13. Cut the pork to 1 cm thick strips.
14. Place the pre-cooked noodles in a pot with boiling water for 15 seconds to loosen the noodles.
15. Remove the water and add the noodles to the serving bowl.
16.Pure mirin, soy sauce, cooking cream, and pepper into the broth
17. Add scallops and mushrooms to the soup and cook for 2 minutes.
18. Add spring onions and pork to the soup and cook for 1 min.
19. Cabbage added to the soup and it all turns.
20. Pour it all over the noodles and the dish is ready for serving.
_
Zoë has held sushi courses and cooking classes for A. P. Moller – Maersk, Hugo Boss Nordic, Novo Nordisk, Novartis, Velux, Gorrissen Federspiel, Beierholm revision, Elbek & Vejrup and many more.