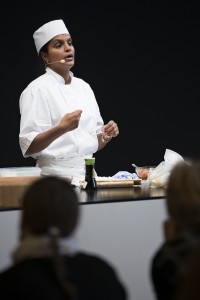 Ultra short version
Sushi chef, Sake Sommelier, teacher, speaker, and author specializing in authentic Japanese sushi and Japanese cuisine and European cuisine.
You are also welcome to follow me on Instagram: sushicheftail.
The long version
For many years, I have practiced the Japanese martial arts of kendo (sword fencing) at elite level. My kendo coach and mentor today is Nobuo Hirakawa, who is very famous in Japan for his ability to hand-pick talents and develop them into the best kendo players in the world.
In 2004, I traveled to Japan where I was on a training camp in Tokyo. After training, I was invited to dinner with the teachers at Tokyo's many high quality sushi restaurants. – That was an eye-opener.
Typically, Japanese sushi restaurants have 20 different fish on the menu, it tastes different from European sushi and the quality is also different.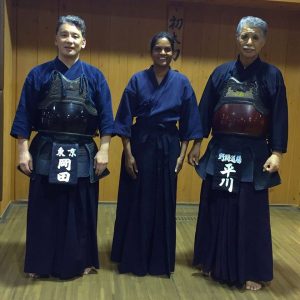 In 2005, my knee was injured, so unfortunately, I had to give up practicing kendo. But my joy of the beautiful country and culture of Japan and my enthusiasm for Japanese cuisine remained unchanged.
In 2006, I traveled to Los Angeles where I was trained to become a sushi chef and Sake Sommelier at the California Sushi Academy. As part of the training, I also learned to make different appetizers, entrees and other classic dishes within the Japanese cuisine. – The education was led by the highly acclaimed Japanese director Toshi Sugiura, who has 40 years of experience, is a celebrity chef in Hollywood and a judge at sushi competitions in Japan.
During my stay in Los Angeles, I made catering at celebrities' houses in Bel Air, Beverly Hills, and Brentwood, as well as at film companies in Hollywood.
Since the sushi chef education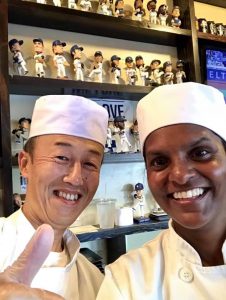 Since my education in 2006, I have been back in Los Angeles. I visited my teacher in 2012 and 2019 for new inspiration, refined techniques and assisting Mino – a Japanese sushi chef with 36 years of experience. Read more about Zoë's passion for sushi.
Japan
My delight of Japanese cuisine and sushi has meant that since 2004, I have traveled to Japan almost every year to be inspired, learn new techniques, and broaden my horizons within Japanese gastronomy. – In addition, it is also a nice opportunity to visit Japanese friends and instructors and traine kendo kata.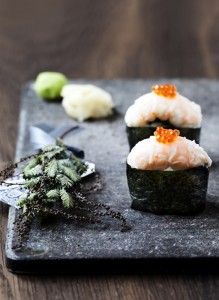 Results
Since I graduated in 2006 I have been quite busy.
In January 2019 I was the judge for the daily newspaper Politiken in connection with testing food for their readers.
In February 2016 I held the official opening speech and opened the fair Formland Spring 2016 in Messecenter Herning in Denmark. At the opening of the fair there were 49 people from the press, 20 VIP and 271 exhibitors.
In October 2014, I made a sushi guide for the newspaper Jyllands-Posten which can be found on their website.
In August 2014, I rated the quality of take-away sushi from 8 different sushi restaurants in Copenhagen. A research made by the consumer council magazine "THINK".
My sushi course for beginners was nominated for the Danish Experience Prize 2013.
In November 2013, I was rated as sushi expert no. 1 in Denmark by the gourmet supermarket chain Irma.
In November 2013, I made sushi and other Japanese cuisine dishes as staff food for the three-star Michelin restaurant Geranium.
On 9 July 2010, my cookbook "Matcha, omakase and sushi" was released.
Private
I was born in 1974 and adopted from Sri Lanka.
I grew up with Dutch parents and I am the granddaughter of the famous Dutch artist M.C Escher.
Besides gastronomy, I am deeply interested in self-development and exercise, I enjoy traveling, and of course I enjoy Copenhagen all year round.
Gem
Gem
Gem
Gem
Gem
Gem
Gem
Gem