Japanese cuisine is not just about sushi.
In Japan, sushi makes up less than 15% of Japanese cuisine. The Japanese people love sushi. However, Japanese cuisine has many other tasty dishes to offer which are not well known in Europe.
Now you have the opportunity to get in-depth knowledge of 3 classic dishes from Japanese cuisine.
Learn how to make delicious dumplings, hot seafood noodles dish and a dish with salmon. Just like Japanese chefs.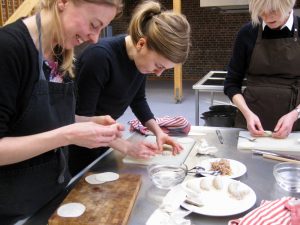 What do you learn at the course?
You get an introduction to classic Japanese dishes that are tasty and tender and fits perfexct to a busy day.
You learn to use Japanese ingredients such as mirin and cooking sake like Japanese chefs in Tokyo.
You learn to buy fish, meat, vegetables and Japanese products like Japanese chefs.
You learn to prepare fish, meat and other materials using techniques such as marinating, blanching and trimming.
You work with different Japanese cutting techniques in order to cook dishes with different fish, meat and vegetables.
Step by step, you learn to prepare 3 aromatic and tasty dishes such as Japanese dumplings, a noodle dish with seafood and a dish with teriyaki salmon.
One of the dishes was also served as staff food to the 3-star Michelin restaurant Geranium.
What are you getting?
2 hours of intensive teaching.
You make  Japanese dumplings, a hot seafood noodle dish and a dish of teriyaki salmon that you bring home.
You will of course be given the recipes.
About the instructor
The course is held by the Japanese educated Sushi chef & sake sommelier Zoë Escher.

About the class
There are small exclusive teams with max. 13 attendants.
The class is not bigger than that there is time for Zoë to provide personal feedback.
Price
DKK 775 per person.
When and where?
THERE WILL BE MAX. 10 ATTENDANCE ON EACH CLASS DUE TO CORONA VIRUS.
New dates will follow
The class can be held in other countries feel free to contact me on info@sakana.dk
Gem
Gem
Gem
Gem
Gem
Gem
Gem
Gem
Gem
Gem
Gem
Gem
Gem
Gem
Gem
Gem
Gem
Gem
Gem
Gem
Gem
Gem
Gem
Gem
Gem
Gem
Gem
Gem
Gem