Private lessons: Sushi course deluxe
Sushi course deluxe is a course for people who are looking for a private event that challenges the party in a cozy and a fun way, followed by a tasty dinner where the homemade sushi pieces eaten.
In Japan it is to eating together is a social event is a social event. It is a nice way to relax, be together and strengthen relationships.
During cozy and pleasant setting the creativity of the attendee is unfold and developed. Cooperation and common ground will be strengthened on the course. The ability to step out of their comfort zone and try something new will be strengthened.
A special event such as a bachelor party or a birthday is a welcome opportunity to meet where all guests can participate in making sushi in a different and fun way.
Sushi course deluxe is ideal for teambuilding, customer seminar or a wonderful bachelor.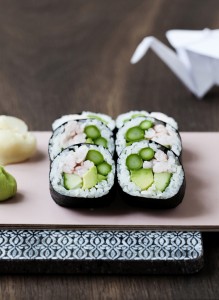 For whom is the course designed?
Sushi course deluxe is for people who:
– Loves sushi.
– Never made sushi before.
– Want to enhance cooperation between their employees.
– Are looking for a team building course during which employees are challenged on their own creativity.
The course is also for those who:
– Want to give your customers unique experiences.
– Are looking for fun and exciting activity for a lodge.
– Want to get private sushi lessons at their company.
– Would like to celebrate their birthday by making dinner together with their friends.
– Would like to give their friend / girlfriend a unique experience at a bachelor's party.
What do you learn at the course?

You learn:
– About Japanese traditions and what makes Japanese sushi unique.
– About the Japanese raw materials being used for sushi.
– About what you should be aware of when you make sushi with different kinds of raw fish.
– To prepare different kinds of vegetables and fish for sushi.
– To make tasty sushi such as futomaki (big roll), Hosomaki (small roll), and uramaki (inside-out).
When you leave the course
– The Japanese ingredients used for sushi.
– How rice is boiled using Japanese cooking techniques.
– What you should look for when shopping seafood.
– How to prepare ingredients in the best way.
– The secrets behind the perfect futomaki (big roll), hosomaki (small roll) and uramaki (inside-out).
You learn step-by-step how to make futomaki, hosomaki and inside-out.
I will get ingredients which you can buy at your local fish store and your local greengrocer's or in the supermarket so that you can make the same sushi later on.
Where and when?
The course can be booked seven days a week. For more information please send an email to info@sakana.dk
Location: I turn up at the address of one of the attendants or the company, and I bring various ingredients.
Interested?
he course can also be held abroad. Are you interested in a sushi course or do you have any questions, please feel free to send an email to info@sakana.dk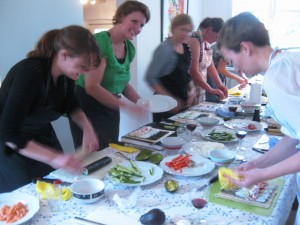 Gem
Gem
Gem
Gem
Gem