Boost your health with a cup of hot Okinawa miso soup a day.
More and more people have noticed the small island of Okinawa which is 2.5 hours from Japan. The people living on Okinawa have become noticeable throughout the world as they are the longest living population in the world.
If you take a closer look at classic Japanese cuisine it will be different for the rest of the world.
The individual dishes in Japanese cuisine are composed in such a way that they either detoxify the body or provide body nutrition. During a single Japanese meal the body will be nourished from the entire diet pyramid.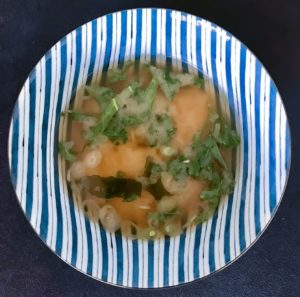 What is Okinawa miso soup?
On the island of Okinawa the population eats differently than the mainland Japan. The population has a different approach to the raw materials grown in Japan and Okinawa.
The people of Okinawa regard raw materials as medicines that can prevent, strengthen and boost health. The healthy benefits in the ingredients which are used in cooking a meal play an important role in the high life expectancy of the population.
Okinawa miso soup differs from other Japanese soups due to the unique and healthy benefits found in Japanese ingredients, Japanese ingredients and vegetables. The Okinawa miso soup gives your health an extra boost by
Strengthen immune system
Improve digestion
Suppresses inflammation of the body
Prevent heart attacks
Keep cholesterol levels in balance
Detoxify the body
Add lots of antioxidants to the body
What do you get?
A unique 14-day Okinawa miso soup where you boost your health with a cup of Okinawa miso soup every day. You will receive a collection of recipes with one stock and 14 different Okinawa miso soups for 14 days.
How does it work?
Once you have placed your order, you will receive a confirmation mail with one stock and 14 miso soups.
You decide when to start the experience and at what time during the day you make today's miso soup.
On the first day, you make a large portion of stock from scratch which will be used in the 14 different miso soups. The stock contains unique aromas, flavors, vitamins and minerals as if it was made at a restaurant in Tokyo. You can choose to freeze half the stock and take it out of the freezer once the first week has passed.
Each day you will make a cup of Okinawa miso soup that you drink with your evening meal. Once the stock is made it takes no more than 15 minutes a day to make a cup of hot miso soup.
The Okinawa miso soup experience can be repeated as often as you like or turn into a regular routine.
Price
295 DKK Add to basket
Is also (EUR 39,5 or USD 43)
The price include vat