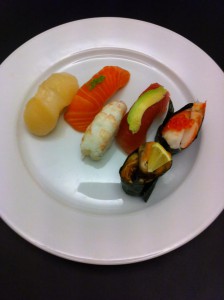 From November 2015 I will do Japanese pop-up sushi dinners for diners on a Saturday night once a quarter. In the course of an evening there is room for maximum 6 diners.
The next pop-up dinner will be held in autumn in a beautiful room in the real office building at Danbolig, Østerfælled Torv 10, 2100 Copenhagen Ø, Denmark.
If weather permits, dinner will be served in their large outdoor terrace.
For whom is sushi dinners organized for?
For those who love gourmet sushi.
For those who want to eat authentic Japanese sushi without the trip to Tokyo.
For you who are looking for a gastronomic sushi experience.
For those who would like to experience and eat sushi, which first made when you sit at the table.
About dinner
I am going to make a Japanese omakase menu that is based on the ingredients, raw materials and techniques that I have learned from my Japanese sensei living in Tokyo and Los Angeles. The menu will change and follow the season for raw materials.
Menu

The menu is an omakase menu consisting of 6 dishes; the menu will obviously change from time to time according to the season for raw materials.
Drinks
For dinner, you can order a bottle of white wine 275 DKK. Beverages settled in cash/ mobilePay on site.
Seating
The dinner takes place around a large dinner table with seating for 12 diners.
I want to give guests a unique experience therefore there will be plenty of space between each party. This evening there will only be 8 seats avaiable.
When & where?
New date will follow
If you want to book a seat please send an email to info@sakana.dk
Reference
"Thank you for a wonderful sushi dinner, which in every way piqued and pleased the taste buds.
It was really exciting to watch you cook and then taste the many interesting variations of sushi that you served for us.
The dinner was different and so much more than you normally experience at a good time sushi – from the miso soup where a naughty little secret was hidden, sashimi surprise, to the delicious cake that lay soft and inviting on the tongue. – All the way through there was a bright red thread in what you wanted us to experience.
It was a complete dinner from start to finish and a cozy and exclusive experience, from end to end. We look forward to what is next to delight our palates with". Katrine Lønnegaard
"We have never tasted Japanese food that was this good everything from soup to sashimi and sushi and cake were fantastic. You're a brilliant cook and everything tasted great. Talking to you while we ate was amazing". Kjartan Vidarsson
If you are interested and want to be on a list and be informed about the menu and when the exclusive dinners take place please send an email to info@sakana.dk
The pop-up sushi dinner can also be held abroad. Please send an email to info@sakana.dk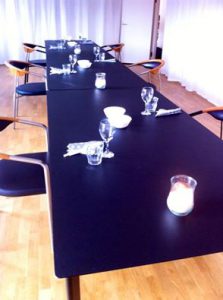 Gem
Gem
Gem
Gem
Gem
Gem
Gem
Gem
Gem
Gem
Gem
Gem
Gem
Gem
Gem
Gem
Gem
Gem
Gem
Gem
Gem
Gem