Learn how to make nigiri sushi like Japanese sushi chefs in Tokyo.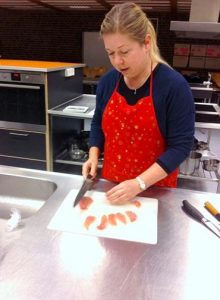 To fillet a fish in such a high a quality that it can be used for sushi is not the easiest in the world. There are not two identical fish.
You must have complete control of the fillet. It does matter if you start cutting fish to nigiri from the tail of the fish or from the head.
If you want to make nigiri which is 'two die for', you will need to fully control the amount of rice used and how to combine rice and fish with different hand techniques to make it a gastronomic experience.
There is enough to get hold of and it will be challenging, fun and educational.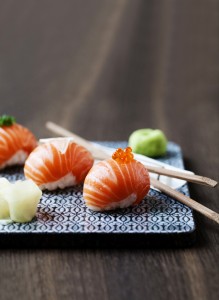 What do you learn at the course?
You get an introduction to what the difference is between authentic Japanese nigiri sushi and European nigiri sushi.
You will be introduced to a whole mackerel which you must fillet in such a high quality that it can be used for sushi.
You work with different fish fillets such as mackerel, white fish, salmon and tuna.
You learn about the meat structure of the 4 different fish and what it meand when the fish is cut into nigiri sushi.
You work with 6 different Japanese cutting techniques that are used to cut different fish for nigiri sushi.
Step by step you work with one hand technique to make nigiri-sushi with mackerel, white fish, salmon and tuna.
What are you getting?
2 hours of intensive teaching
You learn to make nigiri-sushi with 4 different fish.
A total of 17 pieces of nigiri-sushi of a quality that you bring home.
You will of course be given the recipes.
About the instructor
The course is held by the Japanese educated Sushi chef & sake sommelier Zoë Escher.
About the class
There are small exclusive teams with max. 13 attendants.
The class is not bigger than that there is time for Zoë to provide personal feedback.
The course is also aimed at families and adults who come with a child.
Price

DKK 675 per person.
Where and when?
New date will follow.
The class can be held in other countries feel free to contact me on info@sakana.dk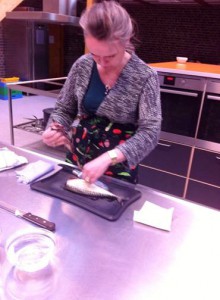 Gem
Gem
Gem
Gem
Gem
Gem
Gem
Gem
Gem
Gem
Gem
Gem
Gem
Gem
Gem
Gem
Gem
Gem
Gem
Gem
Gem