Japanese smoothie is a course for people who want to start their day with a quick and tasty meal full of vitamins, minerals and antioxidants.
Like so many other Japanese live a busy life they go on vacation for about 14 days holiday a year. Despite their busy life they are the people in the world who live the longest.
Japanese cuisine has adapted to Japan's busy life without any compromise on quality or health. Put another way, Japanese dishes is composed in a way that they either detoxifies the body or supplying the body nourishment.
It is not always easy to find time to eat the recommended 600 gram vegetables a day and certainly not if you are like many others in Denmark living a busy with many activities.
Composing smoothies that boost your health while it is tasty is not the easiest. You know which fruits and vegetables are in season how to bring out their natural flavors and aromas and highlight it in the best way.
It can be complicated to make delicious and healthy smoothies which follows season but step-by-step I will guide you to tasty smoothies.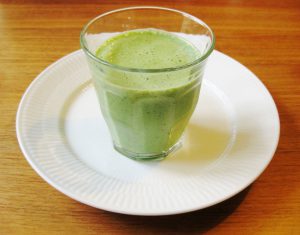 For whom is the course designed for?
Japanese smoothie is for you who:
– Loves healthy and nutritious drink.
– Never made Japanese smoothies before.
– would like to drink smoothies several times a week without running hard in it.
The course is also for those who:
– Has never made smoothie with Japanese ingredients.
– Longing to expand your horizons with Japanese smoothies.
– Want an easy alternative to eating 600 gram vegetables every day.
– Would like to make smoothies that follow the season for fruit and vegetables.
– Dream to boost your health in a tasty way.
What do you learn on the course?

You learn
– What distinguishes Japanese smoothies from the smoothies we know in Europe.
– The Japanese raw materials used to make Japanese smoothies.
– What you should look for when you buy Japanese ingredients.
– What you should be aware of when making smoothie with Japanese ingredients.
– To clarify various kinds of raw materials to the smoothie.
– To make tasty 3 different smoothie to suit the seasons.
When you leave the course
Then know:
– What characterizes Japanese high quality smoothies.
– The Japanese raw materials used to smoothie.
– How to compose a smoothie that boosts your health.
– What you should look for when you buy vegetables and Japanese ingredients.
– How to prepare the different vegetables in the best way.
– Secrets of the healthy and tasty smoothies.
I will use ingredients which you can buy at your local fish store and your local greengrocer's or in the supermarket so that you can make the same smoothie later on.
About the class
My classes are small and exclusive maximum 13 attendants so there will be time to answer questions. Spots are limited. First come first served!
What to bring?
We will make 3 smoothies on the spot. You will bring 3 storage container in case you want to bring the smoothies home.
Price
All in all, you get a 2-hour smoothie course where you learn how to make three different smoothies that boost your health. You will receive the recipes so you can then make the same smoothies at home. Your price for this delicate and tasty course is ONLY 525 DKK per person.
Where and when?
Can be booked by request
Gem
Gem
Gem
Gem