Learn to cook authentic and tasty breakfast dishes such as American pancakes, English breakfast and French toast from international world cuisine.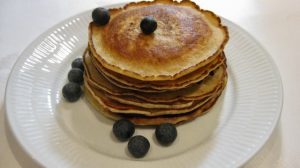 In the international kitchen there is a large selection of different kinds of breakfast. Several countries in Europe and the United States have invented their own breakfast which has become popular in most of the world. You can enjoy these dishes on your own or with your family.
Making the perfect breakfast can be complex. It can be explained in a simple way where I step-by-step guides you to making tasty international breakfast.
What do you learn at the course?
You get an introduction to international breakfast and what makes breakfast from different countries tasty.
You learn about the most popular sausages, honey, bread, bacon and mushrooms.
You learn to handle various steps for baking 3 different tasty international breakfast.
You work with European ingredients that give the unique flavors and flavors that characterize American breakfast, French toast and English breakfast.
You work with different cooking techniques in the making of delicious breakfast.
You learn step-by-step to make American breakfast, French toast and English breakfast
What are you getting?
2,5 hour of teaching and ½ hour of tasting the food.
You learn to make 3 different buns – American breakfast, French toast and English breakfast.
You may taste the freshly made breakfast on the course. You are also welcome to bring all 3 different breakfast home to enjoy.
You will of course be given the recipes.
About the instructor
The course is held by the Japanese educated Sushi chef & sake sommelier Zoë Escher.
On this course you will also strengthen your English skills while learning how to make tasty international breakfast.
About the class
There are small exclusive teams with max. 13 attendants.
The class is not bigger than that there is time for Zoë to give personal feedback.
Price
6600 JPY (tax 1650 JPY) per person. Price in total 8250 JPY
When and where?
Tuesday 14 August 2018 from 5:30 to 8:00 p.m. at Stoke Azabu K&S, Room #501, 3-1-5 Azabujuban, Minato ward, Tokyo in Japan.
Registration deadline: Wednesday 8 August 2018
Price per person 8250 JPY Buy now and for 2 persons 16.500 JPY Buy now
How to pay?
When you click on the "Buy now" button a new page will open with the amount of 461 DKK which is 8250 JPY. Click again on "Buy now" and a payment page will open. Fill out the page with your contact information and when you get to payments you can choose to pay in Danish kroner or Japanese yen. You can use Visa and Mastercard.
For more information or questions please send an email to info@sakana.dk