Traditional Japanese dishes for beginners
The traditional Japanese dishes for beginners is a course for people who want to live a life with more healthy options.
To distinguish between different types of soy used in Japanese cuisine is not the easiest. The selection of Japanese soy sauce is just as much as cheese shelves in a Danish supermarket.
Many people think that sushi is the national dish in Japan. The Japanese are fond of sushi but sushi is less than 15% of the Japanese cuisine.
To make authentic Japanese food can be challenging. You have to know what types of Japanese ingredients you need, to make the perfect teriyaki sauce.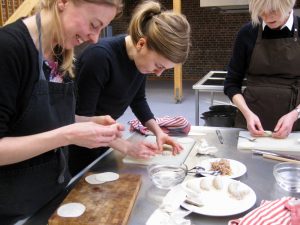 For whom is the course designed?
The course Traditional Japanese dishes for beginners is for people who:
– Have never made Japanese dishes before.
– Want to broaden their horizons with exciting dishes from Japanese cuisine.
– Dream of knowing the secrets of the healthy cuisine, and Japanese longevity.
– Seek new inspiration and variety to their diet.
The course is also for people who:
– Never did Japanese home cooking before.
– Want a deeper insight into the nutritious and Japanese healthy diets.
– Dreams of learning the most popular techniques behind Japanese-style cooking.
– Longs to make healthy and tasty dishes outside without having to work for a whole day in the kitchen.
– Want to make tasty dishes like gyoza, a noodle dish with seafood and a warm fish.
What do you learn at the course?
You learn:
– About the Japanese way of life and traditions.
– About the classic Japanese dishes, which are delicious and matches and busy everyday life.
– About the Japanese ingredients such as mirin and cooking sake, used in authentic Japanese food.
– About what you should be aware of when you doing style cooking.
– How to prepare different kinds of raw materials according to Japanese cooking techniques.
– How to make one entrée and two main dishes.

When you leave the course

You know:
– The Japanese ingredients used to make Japanese dishes.
– What to look for when buying fish, meat and other ingredients.
– How to prepare ingredients pork, shelfish, fish, vegetables and noodles.
– How to make Japanese marinades dressings and tasty sauces.
– What the secret behind the authentic Japanese cuisine.
-Step-by-step how to prepare three tasty everyday dishes that can be made in less than an hour.
One of the dishes was also served as staff food at the two-star Michelin restaurant Geranium.
I will use ingredients which you can buy at your local greengrocer's, in the supermarket, or in an Asian store, so that you can make the same everyday dishes.
About the class
My classes are small and exclusive so there will be time to answer questions.
Spots are limited. First come first served!
What to bring?
You will bring your own apron, a cutting board, a sharp knife, and a storage container so that you can take some of the goodies home with you, if you like. Otherwise, you can eat the food during the course.There will of course be time to answer questions.
Price
All in all, you get a 2-hour Japanese cookery course where you learn how to make a starter, in between first dish and main course. You will receive the recipes so that you can make the same dishes at home. Your cost for this most delicate and tasty course is ONLY 605 DKK per person.
When and where?
Sunday 10 June 2018 from 3:00 to 5:00 at Nose2Tail, Flæsketorvet 13A, 1711 Copenhagen V, Denmark.
Registration deadline: Tuesday 5 June 2018
Price per participant: 605 DKK.
If you want to book a seat please send an email to info@sakana.dk
The course can also be held abroad. Please send an email to info@sakana.dk
–
Gem
Gem
Gem
Gem
Gem
Gem
Gem
Gem
Gem
Gem
Gem
Gem
Gem
Gem
Gem
Gem
Gem
Gem
Gem
Gem
Gem
Gem
Gem
Gem
Gem
Gem
Gem
Gem
Gem