Sushi course for beginners
To make the perfect sushi roll can be complex. It can be explained in a simple way, where I step-by-step guides you to make tasty rolls.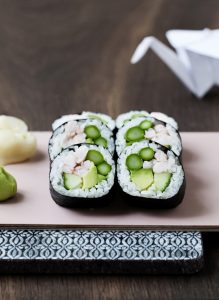 What do you learn at the course?
You get an introduction to what distinguishes authentic Japanese sushi and European sushi.
You learn to handle the various steps for cooking sushi rice.
You learn how to cook sushi rice according to Japanese cooking techniques.
You work with Japanese ingredients that give the unique aromas and flavors that characterize Japanese sushi.
You learn what Japanese sushi chefs look for when buying fish and shellfish at a fishmonger.
You learn how Japanese sushi chefs handle different kinds of fish.
You work with different cutting techniques and cut different kinds of fish and vegetables for sushi.
You learn step-by-step to make hosomaki (small roll), uramaki (insite-out) and futomaki (big roll).
What are you getting?
2 hours of intensive teaching.
You learn to make hosomaki (small roll), Uramaki (insite-out) and futomaki (big roll).
At the end of the course you will make your own signature sushi roll.
In total 32 pieces of sushi that you bring home.
You will of course be given the recipes.
About the instructor
The course is held by the Japanese educated Sushi chef & sake sommelier Zoë Escher.

About the class
There are small exclusive teams with max. 13 attendants.
The class is not bigger than that there is time for Zoë to provide personal feedback.
The course is also aimed at families and adults who come with a child.
Price
625 DKK per person.
Where and when?
These courses below will be held in Danish and in Denmark. The courses can also be held in English if it is booked outside Denmark.
Sunday 28 April 2019 from 3:30 to 5:30 p.m. at danbolig, Østerfælled Torv 10, 1. sal, 2100 Copenhagen Ø, Denmark.
Registration deadline: SOLD
Price per participant: 625 DKK.
If you want to book a seat please send an email to info@sakana.dk
Sunday 12 May 2019 from 3:30 to 5:30 p.m. at Manuvision, Bernhard Bangs Alle 25, 2000 Frederiksberg, Denmark.
Registration deadline: SOLD
Price per participant: 625 DKK.
If you want to book a seat please send an email to info@sakana.dk
Sunday 26 may 2019 from 3:30 to 5:30 p.m. at danbolig, Østerfælled Torv 10, 1. sal, 2100 Copenhagen Ø, Denmark.
Registration deadline: SOLD
Price per participant: 625 DKK.
If you want to book a seat please send an email to info@sakana.dk
Sunday 2 June 2019 from 3:00 to 5:00 p.m. at Manuvision, Bernhard Bangs Alle 25, 2000 Frederiksberg, Denmark.
Registration deadline: Tuesday 28 May 2019
Price per participant: 625 DKK.
If you want to book a seat please send an email to info@sakana.dk
Sunday 30 June 2019 from 3:30 to 5:30 p.m. at danbolig, Østerfælled Torv 10, 1. sal, 2100 Copenhagen Ø, Denmark.
Registration deadline: Tuesday 25 June 2019
Price per participant: 625 DKK.
If you want to book a seat please send an email to info@sakana.dk
Sunday 14 Juli 2019 from 3:30 to 5:30 p.m. at danbolig, Østerfælled Torv 10, 1. sal, 2100 Copenhagen Ø, Denmark.
Registration deadline: Tuesday 9 Juli 2019
Price per participant: 625 DKK.
If you want to book a seat please send an email to info@sakana.dk
Sunday 18 August 2019 from 3:30 to 5:30 p.m. at danbolig, Østerfælled Torv 10, 1. sal, 2100 Copenhagen Ø, Denmark.
Registration deadline: Tuesday 13 August 2019
Price per participant: 625 DKK.
If you want to book a seat please send an email to info@sakana.dk
Sunday 1 September 2019 from 3:30 to 5:30 p.m. at Manuvision, Bernhard Bangs Alle 25, 2000 Frederiksberg, Denmark.
Registration deadline: Tuesday 27 August 2019
Price per participant: 625 DKK.
If you want to book a seat please send an email to info@sakana.dk
Sunday 29 September 2019 from 3:30 to 5:30 p.m. at danbolig, Østerfælled Torv 10, 1. sal, 2100 Copenhagen Ø, Denmark.
Registration deadline: Tuesday 24 September 2019
Price per participant: 625 DKK.
If you want to book a seat please send an email to info@sakana.dk
The course can also be held abroad. Please send an email to info@sakana.dk
Gem
Gem
Gem
Gem
Gem
Gem
Gem
Gem
Gem
Gem
Gem
Gem
Gem
Gem
Gem
Gem
Gem
Gem
Gem
Gem
Gem
Gem
Gem
Gem
Gem
Gem
Gem
Gem
Gem
Gem
Gem
Gem
Gem
Gem
Gem
Gem
Gem
Gem
Gem
Gem
Gem
Gem
Gem
Gem
Gem
Gem
Gem
Gem
Gem
Gem
Gem
Gem
Gem
Gem
Gem
Gem
Gem
Gem
Gem
Gem
Gem
Gem
Gem
Gem