Learn how to prepare delicious Japanese dumplings, a delicious noodle and the Japanese omelette tamago like Japanese sushi chefs.
The Japanese cuisine offers many delicate and tasty meatless dishes.
It certainly will not be boring! Many Japanese vegetarian dishes were developed in the Buddhist monks of Kyoto in Kyoto and the tasteful dishes have since become part of the Japanese cuisine.
Japanese vegetarian dishes are more challenging to make as different techniques are used to make the tasty dishes.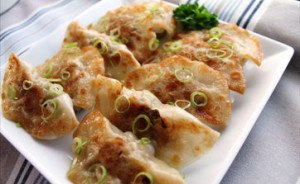 What do you learn at the course?
You will get an introduction to Japanese food traditions and the classic Japanese vegetarian kitchen.
You will be introduced to popular produce such as cabbage, shiitake mushrooms, tofu and ginger.
You learn to apply and measure Japanese ingredients such as mirin and cooking stuff which is indispensable in the Japanese vegetable kitchen.
You learn about the difference between dried noodles and fresh noodles and what the benefit is of using fresh noodles.
You learn to handle the various precursors of the omelet dough and make the technically difficult omelet Tamago.
You work with various Japanese cooking techniques such as baking, blanching, frying and cutting various ingredients.
You learn step by step to make Japanese dumplings also called gyoza, a noodle with edamame beans and a dish with Japanese omelet.
What are you getting?
2 hours of intensive teaching
You learn to make 5 Japanese gyoza, a noodle with tofu and a hot dish with Japanese omelet,
A total of 3 dishes that you bring home.
You will of course be given the recipes.
About the instructor
The course is held by the Japanese educated Sushi chef & sake sommelier Zoë Escher.
About the class
There are small exclusive teams with max. 13 attendants.
The class is not bigger than that there is time for Zoë to provide personal feedback.
The course is also aimed at families and adults who come with a child.
Price
595 DKK per person
Where and when?
New dates will follow.
The class can be held in other countries feel free to contact me on
info@sakana.dk
Gem
Gem
Gem
Gem
Gem
Gem
Gem
Gem
Gem
Gem
Gem
Gem
Gem
Gem
Gem
Gem
Gem
Gem
Gem
Gem
Gem
Gem
Gem
Gem
Gem
Gem
Gem
Gem
Gem
Gem