Advanced nigiri sushi course
Advanced nigiri sushi course is for people who want a deeper knowledge about in different cutting techniques and practice nigiri techniques.
There are some who believe that it is the same cutting techniques that are used for all types of fish.
The participants who attendant in the Advanced sushi course vol. 1 will probably be able to recognize that there are many interesting challenges. There are no two identical fish and therefore you must adjust your cutting technique to the fish. To cut silky fish slices for nigiri takes time to learn it depends on your ability to use a knife.
In 2012 I was introduced to a nigiri technique that takes 20 years to master. It is a technique where you form the individual grains of rice in a way so they melt in your mouth when you take the first bite of a silky but firm nigiri. This technique is not the one the attendee will learn to use. But close.
If you would like to become better at making nigiri it would be a good idea to have your techniques evaluated the ones you were introduced to at Nigiri sushi for beginners. There will also be plenty of time to practice the techniques with fish species that you do not normally find on a menu.
It will be some exciting hours where we go deeper.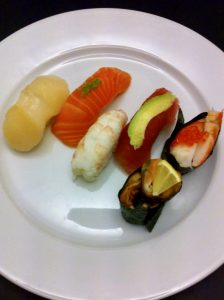 For whom is the course designed for?
Advanced nigiri sushi course is primarily for people who:
– Yearn to be even sharper to fillet a fish.
– Eager to learn how to cut rare fish nigiri.
– Have attended the course Advanced sushi course vol. 1
The course is also for those who:
– Want to broaden their horizons with new cutting techniques.
– Would like to adjust their present techniques.
– Dream about to brush up techniques.
– Want to get a more in-depth knowledge about the techniques used to Nigri.
What do you learn on the course?
You learn:
– Filleting a Danish fish so you get a greater understanding of the variation of species.
– To prepare fish for sushi which you do not find on a menu.
– To use different cutting techniques and cutting fish nigiri.
– The importance of getting techniques adjusted so you can handle different types of fish.
– To refine the fish so it suitable for sushi.
– That the hand techniques used for sushi takes time to learn depending on the fish species.
When you leave the course
You know:
– How to handle various fish for sushi.
– That your cutting techniques used to nigiri has been adjusted.
– That you have trained the techniques used to cut fish for sushi.
– That your hand techniques used to make nigiri has been adjusted.
– That you have become better to adjust the amount of rice in according to the fish slice.
– That you have practiced hand techniques and become more experienced in making nirigi.
Step-by-step gets you trained your cutting and hand techniques are used to make nigiri.
I will use ingredients which you can buy at your local fish store and your local greengrocer's or in the supermarket so that you can make the same sushi later on.
About the class
My classes are small and exclusive maximum 13 attendants so there will be time to answer questions. Spots are limited. First come first served!
What to bring?
You will bring your own apron, a cutting board and a sharp knife.
Price
All in all, you get a 2-hour sushi course where you learn how to fillet a Danish fish, prepare and cut 3 different rare fish nigiri. You get your techniques adjusted and time to practice techniques, get a deeper knowledge and more experience in using hand techniques to make nigiri. Your price for this exciting and challenging course is ONLY 675 DKK per person.
Where and when?
This class is held a few times per year.
The course can also be held abroad. Please send an email to info@sakana.dk
Gem
Gem
Gem
Gem
Gem
Gem
Gem
Gem
Gem
Gem